Dr. Keskinoz and his students in The Communication Theory and Technologies (CTT) Group at Sabanci, conducts research on the following related topics.

Communications &Networks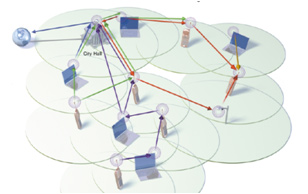 | | |
| --- | --- |
| | Signal Processing and Coding for High Rate and Robust Wired and WirelesTechnologies such as ADSL, 3G , 4G, 802.11 g etc |
| | Distributed Information Fusion and Detection in Wireless Sensor Networks |
| | Target Localization and Tracking in Wireless Sensor Networks |
| | Power allocation in Multi-Access Relay Networks |
| | Development of Green Mobile Technologies for Wired and Wireless Communications |
| | Equalization/Detection and Timing Recovery of Digital Recording Systems with low SNR |
| | Network Coding |
Multimedia Security and Information Hiding
With the fast development of Internet, the need to create, store and distribute the digital multimedia gets more and more increasing. This raises, however, security concerns since multimedia is highly vulnerable to the illegal copying, distribution, manipulations and other attacks. To remedy these security issues, the idea of "the digital watermarking" and "stenography" have been introduced where the secret information is carried over the host signal.For example, one can embed
§ Road map into the image

§ Digital signature into the speech to prevent from illegal copying

§ Logo into the video

§ The name of the patient into the X-ray reports and MRI Scans

§ Embed watermark into text document to ensure that it is not changed
In communication theory and technologies (CTT) group at Sabanci, which is supervised by Dr. Keskinoz, conduct research to develop practical and efficient algorithms for the multimedia and information hiding.
Correlation Filter Pattern Recognition for Biometric Verification and Security
Biometric person identification and verification is a promising methodology for authentication applications. However, there are many issues that need to be addressed to ensure the security of biometric templates in biometric authentication systems. One such aspect is the cancelability of a biometric. For example, consider a scenario where a biometric template is stored on a card for authenticating a user. What happens when that card with the user's biometric template is lost or stolen? How does one cancel the lost or stolen card and re-issue a new biometric card for that person? In order to protect the user's biometric templates from possible hacking and to ensure cancelability, the templates must be encrypted. Then in case of theft or loss, a different encrypted biometric template can be issued from the same original biometric pattern. Recent work in using advanced correlation filters has shown promise for biometric verification. Correlation filter methods offer advantages such as shift-invariance and graceful degradation.
In communication theory and technologies (CTT) group at Sabanci, which is supervised by Dr. Keskinoz, conduct research to devise new correlation filters and/or techniques based on correlation filters for the purpose of developing secure biometric authentication systems.
Supervised MS/PHD Theses:
| | |
| --- | --- |
| | Kayhan Eritmen, Ph. D. 2014, ""Power Optimization, Network Coding and Decision Fusion in Multi-Access Relay Networks," |
| | Engin Masazade, Ph. D. 2010 ( jointly supervised with Prof. Pramod Varshey), "Resource Aware Distributed Detection and Estimation of Random Events in Wireless Sensor Networks," |
| | Ali Cagatay Cırık, M.S., 2009, "Low Complexity Iterative Soft Detection for LDPC Coded Multi-Relay Channels". |
| | Mumin İmamoglu, M.S. (2008), "Serial Distributed Detection Strategies for Wireless Serial Sensor Networks,". |
| | Kayhan Eritmen,M.S. (2008),"Distributed Detection Algorithms for Parallel and Hierarchical Wireless Sensor Networks, ". |
| | Merve Peyic, M.S. (2008) ( jointly supervised with Prof.İlker Hamzaoglu), "Low Power IEEE 802.11n LDPC Decoder Hardware Design,". |
| | Çagatay Karabat,M.S.(2007),"Robust Blind and Nonblind Detection for Digital Watermarking," |
| | Engin Masazade, M.S. (2005),"Instantaneous BER Estimation Based Link Adaptation and Scheduling in Multi-band OFDM UWB WPANs,". |
| | Riza Donmez, M.S. (2003), "Digital Implementation of ETSI OFDM Symbol Synchronizer Based on Sliding Correlation,". |
| | H. Ercument Zorlu,M.S.(2003) "Experimental Evaluation of Synchronization Errors on the Performance of Smart Antenna Algorithms for CDMA,". |
A note for Prospective Graduate Students:
The projects can be assigned to the new comers by Dr. Keskinoz. However, the project ideas suggested by the students are also welcome to keep the students motivated. For qualified and highly motivated individuals, assistantships can be provided. For more details, please check the openings